Waterford Castle Hotel & Golf Resort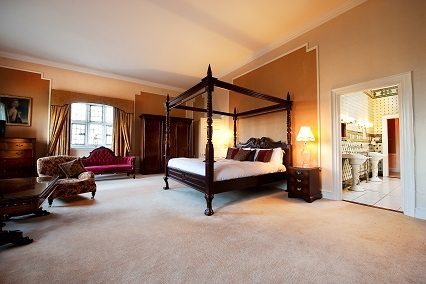 One of Ireland's most acclaimed hotels, which has welcomed and charmed discerning travellers for decades, Waterford Castle Hotel & Golf Resort is set in a privately owned 310 acre island, completely detached from the mainland. In a truly picturesque location on the River Suir, access to the island is by car ferry, operating throughout the day.
The Castle has 18 guest rooms; 5 suites and 13 deluxe guest rooms. Although they inevitably vary in size and outlook (and many have some of those characterful quirks typical of old buildings), all are very comfortably furnished in a country house style, with an elegant décor full of authentic period detail and antiques as well as all the modern comforts of a world class hotel. Each of the 5 suites has a private sitting room and the 13 deluxe bedrooms are en-suite twins and double/kings.
Dining at Waterford Castle provides an opportunity to taste the best of traditional and contemporary Irish cuisine. The award-winning Munster Dining Room with its original oak panelled walls, ornate ceilings, dramatic portraits and painted scenes creates an atmospheric backdrop to a pleasurable dining experience, perfectly complemented by a comprehensive wine cellar and resident pianist. The delectable cuisine, showcasing the best seasonal ingredients from local suppliers, demonstrates a commitment to emphasising the finest local produce.
Excellent breakfasts are a given at Waterford Castle, with a lavish buffet of fresh juices and prepared fruit, yoghurts, muffins, local cheeses, smoked wild Irish salmon, Waterford blaas (the local bread rolls), and cooked offerings of Flavahan's porridge, excellent dry cured bacon and local sausages and eggs.
The Fitzgerald Room in the Castle is an elegantly comfortable and intimate room which serves a light menu during the day and where afternoon tea may also be enjoyed in front of the crackling log fire. In the evening enjoy an aperitif or cocktail while choosing from the dinner menu or simply relax at any time over a game of chess or curled up with a good book.
Waterford Castle offers a number of private dining options including the Leinster Dining Room which can accommodate up to 22 guests, the Conservatory which caters for 24 guests or the Munster Dining Room suiting private dining for up to 100 people.
As an alternative to staying in Waterford Castle Hotel, there is also the option of the privacy and freedom of staying in an island holiday home. Contemporary and stylish, Waterford Castle Lodges are superbly designed to optimize space and light, located on the original site of the old island glasshouses. These 3 bedroom self-catering lodges sleep up to 6 people and have been fitted out to the highest standards, providing the perfect blend of country retreat with the ultimate in contemporary luxury living. Strikingly simple architectural lines are juxtaposed with the surrounding stunning natural beauty to both compliment and create a contrast to the Castle itself.
Waterford Castle Hotel & Golf Resort is not just a place to enjoy for golfers – it's also full of other outdoors activities, from scenic walks on the marked paths to archery, tennis, clay pigeon shooting, boules and croquet. The island has a wide variety of wildlife to be seen such as deer, pheasant, foxes, swans and hare, meaning each walk is a nature trail in the truest sense. Custom made picnic baskets can be ordered and enjoyed in the vast grounds of the estate. Within a short drive of the island you can also enjoy horse-riding and fishing.
Waterford Castle Hotel & Golf Resort offers a unique combination of luxury, tranquility, Championship golf, activities, great food and polished, professional service in an enchanting location – a true island haven.
For more information on Waterford Castle Hotel & Golf Resort call us here today and don't forget to mention TheFancyHen.ie!
Contact info
Waterford Castle Hotel & Golf Resort The Island,
Waterford
051 878 203
info@waterfordcastleresort.com
http://www.waterfordcastleresort.com