#FancyReviews: Sporty Hen Party Ideas
By:
Carol
#FancyReviews: Sporty Hen Party Ideas
Does the bride-to-be enjoy watching the footy? Does she like to keep fit and active? Then keep reading this weeks #FancyReviews: Sporty Hen Party Ideas.
So the bride-to-be loves to be active. You know she won't be a huge fan of packages that include activities such as Afternoon Tea, Chocolate Making or even Cocktail Making. These are all a bit too tame for the lady of the moment. So what package do you pick? One option is to ask the bride what she would like to do to. This should make your life a little easier too! If you wish to keep it a fun surprise however, let us help. TheFancyHen.ie have tons of fun and exciting packages to choose from. To help with your decisions, we have compiled four that are sure to be a hit.
Old School Sports Day is a favourite here in TheFancyHen.ie office. Think of all the classic games you used to play as a kid. Now you get to relive those fun moments with all the hens during this fantastic activity. Here you will get the chance to enjoy an egg-spoon race, three legged races, hula hoops and so much more. Before you begin, you will be given fun, old school uniforms complete with leg warmers, head bands and gym socks. Imagine all the hilarious pictures ladies!
See who comes out on top with a fun Sports Skills Afternoon for the hen party. With this package you will enjoy two hours of playing a variety of different games with all the hens. You will compete against each other and get a score out of 100. Not to worry if the hens are not as sporty as the bride-to-be. Everyone will still have so much fun as it is perfect for all levels of fitness. Are you ready for the challenge?!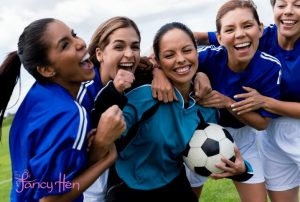 Does the bride-to-be enjoy yoga? Or does she need an afternoon to unwind and take a break from all the wedding planning? Then a yoga hen party is the perfect option. You will meet a trained 'Yogi' when you arrive at the stunning studio. He/she will show you exactly what to do. Not to worry if the hens haven't done yoga before either. Your instructor will show you different variations for each move and include some beginner options too. So no matter how experienced you are, you will be chilled out in no time. Perfect to get ready for an eventful night on the tiles we think!
Dodgeball – such a classic and perfect for the sporty bride-to-be! Who loved playing this game during P.E. in school? No books, no uniform, just lots of fun with all your friends. If these friends are now your hens, even better! Relive your childhood and get stuck into this hilarious game for your hen party. You will be split into games before you begin. Then it's time to win!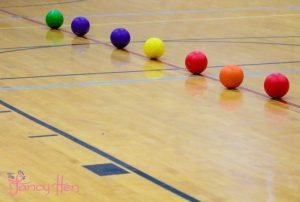 So ladies, those are just a few of our top hen party packages for the sporty bride. Non of these float your boat? Not to worry. TheFancyHen.ie have so many other fantastic packages available right here.
Contact us now on info@thefancyhen.ie or call +353 51 393 000. The bride-to-be will love this personal touch to her festivities. Fab