Hen Party Gift Ideas
By:
Carol
Hen Party Gift Ideas
Looking for some Hen Party Gift Ideas? The bride-to-be deserves a treat after planning her big day. Let The Fancy Hen help you bring a smile to the brides face with these thoughtful and fun ideas.
The scrapbook is such a fab hen party gift for many reasons. The main reason is that it is so simple to create. Gather all the hens together and ask them to bring lots of funny and cute pictures of themselves with the bride-to-be. Pick your favourite ones and get decorating! Stick these to the pages of the scrapbook, write little notes and stick any other items that might bring back some great memories into the book also. These could be concert tickets, receipts or magazine cut outs. This is a fab keepsake for the bride to cherish forever.
The bridal bath robe is a great gift idea that the bride can wear before and after the hen party. This can be personalised with the brides name on the front and the date with 'X's Hen Party' written on the back. These can also be made up for the whole bridal party if you wish. Don these at the hen party while you get ready for the night ahead or even the day after the wedding. Perfect!
Make sure you don't forget the honeymoon ladies! Gift the bride-to-be with these cute flip flops that leave a 'Just Married' print in the sand. She will love them as she walks around the beach and relaxes with her new husband. How perfect would that Instagram pictures be? 😉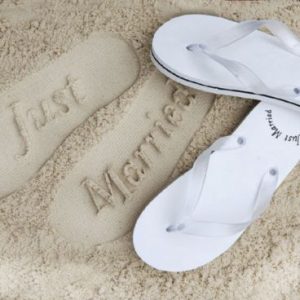 We have some great hen party edibles available in our online store. These would be a hilarious hen party gift that the entire party could enjoy. With cola willies, sweet willie lollipops and sweet candy bras up for grabs, the hens will have lots to nibble on. Lay these out for the girls as they get ready for the night ahead and watch them giggle 😉
So make sure you remember this list when shopping for that all important hen party/wedding gift ladies.